SPRING 2021 Promo: SMART LAWN PLAN Use BLC20 to get $20 off + Free Soil Test
Sunday Smart Lawn Plan
Have you heard about the Sunday Smart Lawn Plan? It's simple, do-it-yourself natural lawn care that's customized to your soil, climate, and lawn and then delivered to you, right when you need it, in easy to apply pouches. I'm a Sunday customer, and I love it!

How it works
Simply sign up, submit a soil sample using the included soil test kit, and the turfgrass experts at Sunday will create a customized plan for your lawn and then ship the products to you when it's time to apply them.  The nutrients are packaged in pouches sized for your lawn that you simply apply using the included hose-end sprayer.  Easy to use with professional results!
Customized for your lawn, climate, and soil
Easy to apply, no guessing, no calibration
Environmentally friendly
Kid and pet safe
Organic weed control
100% guaranteed
First shipment includes: Soil test kit, hose-end sprayer, the first two nutrient pouches, and a wildflower seed blend.
Spring 2021 Better-Lawn-Care.com Promotion
Use coupon code BLC20 to Get $20 off + a FREE Soil Test on any Smart Lawn Plan.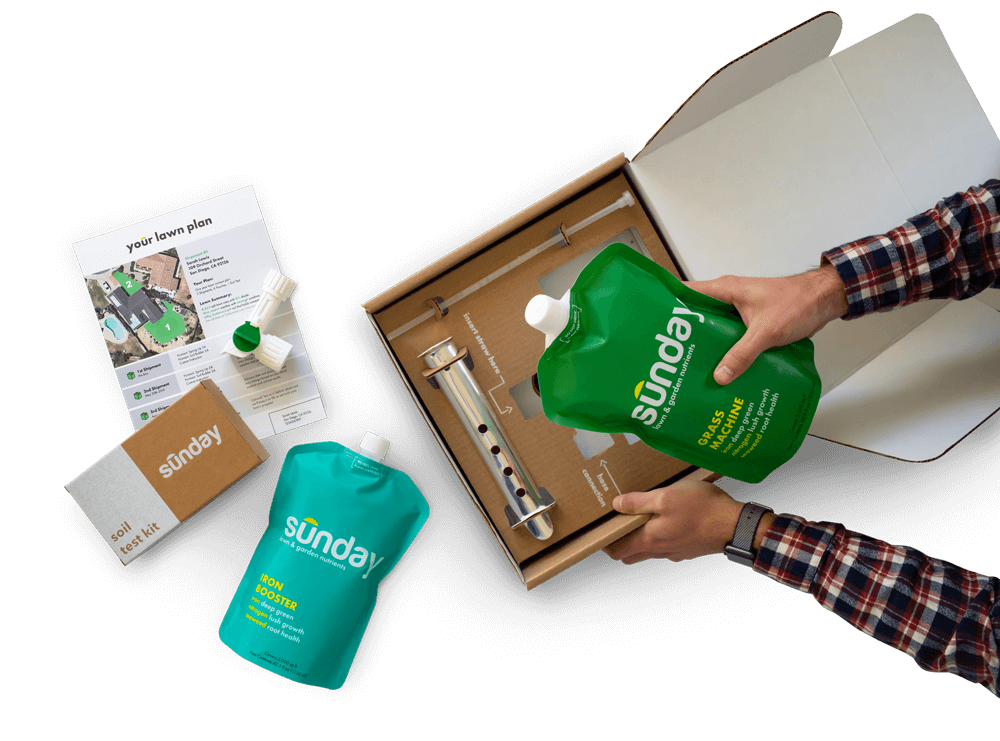 Will Sunday work for my Lawn?
Yes! Every Smart Lawn Plan is customized based on your climate, soil type and grass type.  From Kentucky bluegrass to St. Augustine grass, there is an ideal plan.
No Leftovers! No Guessing! No Spreader Calibration!
Do-it-yourself professional results without needing to calibrate a spreader or sprayer to ensure you're applying the correct amount.  No spills or burned lawns!  The hose-end sprayer makes it amazingly simple to apply Sunday's products with professional results.
Hey, hey...No leftovers!  Storing open bags of fertilizer is a hassle.  Granular products absorb moisture and will cake up if not properly stored. No more storing half-empty fertilizer bags in the garage or shed.  In every shipment, you'll get exactly what you need to feed your lawn and optimize the soil.
Protect our streams, rivers, and lakes
This is super environmentally friendly lawn care!  A major problem with lawn fertilizers is mis-application or over-application by homeowners leading to fertilizer runoff that pollutes our ground water, streams and lakes.  
Do your part to protect our waters by applying only what your lawn requires when it needs it.  Healthy, properly managed lawns are good for the the environment and our communities. 
My Smart Lawn Plan uses less nitrogen with excellent results!
In my area, the recommended annual fertilizer program applies 3 to 5 pounds of nitrogen per 1000 square feet.  
Last year, the total amount of nitrogen applied with my Sunday lawn plan was 1.5 pounds per 1000 square feet.  That's half the amount of recommended nitrogen and my lawn looked great all year!
Natural lawn care
Sunday's lawn nutrient products are derived from natural sources such as food waste, molasses, and seaweed.  Yes, it's kid safe and pet safe.  
Learn more about the ingredients in Sunday's products.
Speaking of pets...Got brown spots?
Sunday's pet patch takes care of pet urine damage.  The special blend of surfactants and nutrients work to neutralize urine spots and boost heathly new grass growth.  The Pet Pro Kit includes grass seed to quickly fill in the spots.
Prepare your lawn for summer stresses
Seaweed extracts are a fertilizer additive know as a biostimulant.  Research has shown biostimulants enhance plant growth and health.  Helping lawns tolerate stresses such as heat and drought.  To get maximum benefits from a biostimulant, it should be applied prior to the onset of stressful environmental conditions.  
Start your smart lawn plan this spring and prepare your lawn for summer heat and drought.
What about the weeds??
I've been preachin' it for years, the best weed control is a thick, healthy lawn.  The turf grass experts at Sunday agree with this philosophy but understand that a few weeds will manage to invade even the best lawn.  So they offer an organic, iron-based weed killer for spot treating weeds such as dandelions.

Mixed Pack (2 bottles)
from:
Sunday
What if I have dirt patches?
Sundays nutrient products won't grow grass on their own, but they'll help new grass fill in strong.  If you have bare patches or thin spots, you'll need to seed those areas first.  Check out Sunday's seeding and patch kits.  
It's also 100% guaranteed!
The folks at Sunday want happy customers with healthy lawns so they offer a 100% money back guarantee if you're not happy.
Read the reviews from 100's of happy Sunday Lawn Lovers.
Get your Sunday lawn I have mine!
I'm picky about my lawn and as the neighborhood expert it's expected to look great!  I've been so impressed that I'm using Sunday's products exclusively to optimize my soils and feed my lawn.  Yes, I'm growing a beautiful, chemical-free lawn with Sunday!
This is my second year using this lawn care program, I love it!
Join me and lets grow environmentally friendly, healthy, lawns that will have our neighbors green with envy!
Spring 2021 Better-Lawn-Care.com Promotion
Use coupon code BLC20 to Get $20 off + a FREE Soil Test on any Smart Lawn Plan. 

The links to Sunday on this page are affiliate links. This means if you click on the link and purchase the item, I will receive an affiliate commission at no extra cost to you. All opinions remain my own. PLEASE READ MY DISCLOSURE FOR MORE INFORMATION.